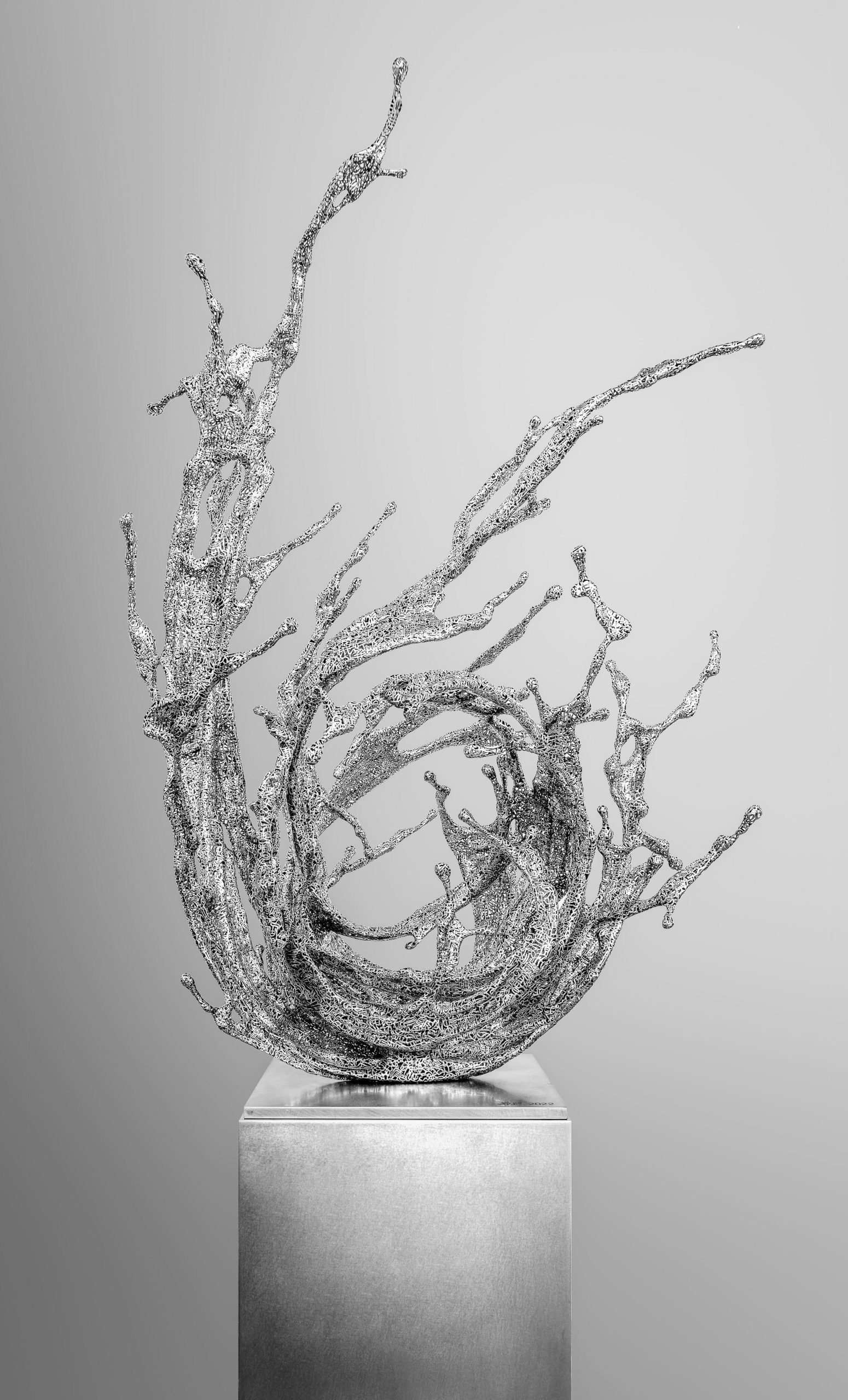 Award-Winning Chinese Sculptor Zheng Lu to Showcase Debut UK Exhibition at HOFA Gallery
Read Time:
2 Minute, 34 Second
HOFA Gallery has announced the opening of the first UK solo exhibition by the internationally acclaimed Chinese sculptor Zheng Lu, titled "Liquid Narratives." The exhibition will take place from 17th to 29th March 2023 at the gallery's flagship showroom in Mayfair, London. Visitors can attend the press preview on 16th March 2023 from 9am to 3pm or the opening night launch from 6pm to 9pm.
Zheng Lu is regarded as one of the most celebrated and recognised contemporary sculptors of Chinese origin globally. His extraordinary and awe-inspiring sculptures, which explore the movement of water in stainless steel, have won him many awards and recognition from various galleries and museums, including the Museum of Contemporary Art, Taipei, Parkview Museum, Beijing, and Long Museum, Shanghai, China.
With the support of his family, Zheng Lu, who is now in his early 40s, started working as a sculptor, artist, and designer in China's Shandong province. He then moved to Shanghai, where he founded his studio and began working on his signature stainless-steel water sculptures.
"Liquid Narratives" will feature Lu's most popular works, including "Water in Dripping" and "Aurora Edge," along with new, never-before-seen pieces. These stunning sculptures capture the ethereal beauty and transient moments of water in motion, imbuing them with a stillness that is best described as poetic.
Lu's stainless-steel creations showcase the softness and fluidity of water, a quality that allows the element to assume infinite forms in space, now transfixed as hanging or standing sculptures created with masterful precision. His works also feature Chinese poetry and calligraphy, welded into the forms he sculpts, reifying words that were once transitory into constitutive sculptural elements.
Zheng Lu has an impressive career that has seen him collaborate with world-renowned luxury brand RIMOWA, design the 'Jane Alexander Global Wildlife Ambassador Award,' presented to His Serene Highness Prince Albert II, and awarded a highly coveted LVMH prize. He has also created large-scale installations that are currently displayed in various public spaces across China.
Lu's upcoming solo exhibition, "Liquid Narratives," will provide a deeper insight into the themes he has explored throughout his career, including the concept of "stillness." He explained, "By showing water in a state of unnatural stillness, I want viewers to think about the underlying narrative of how the water got to be where it is, where it began its journey, and what its destination will be. For we know that water will flow if displaced and will only come to a state of stillness when it has reached its destination."
Art enthusiasts and collectors should not miss this unique opportunity to witness and experience Zheng Lu's extraordinary sculptures that explore the beauty and power of water, capturing its transience and immutability in stunning and thought-provoking ways.
The HOFA Gallery's flagship showroom in Mayfair, London, is the perfect venue to host this debut UK solo exhibition by one of the world's most significant contemporary sculptors. Make sure to attend the press preview on 16th March 2023 or the opening night launch on the 17th. RSVP to emmalouise@thehouseoffineart.com.