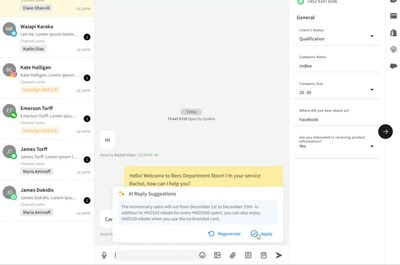 Hong Kong Chat Management Company Launches Revolutionary AI-powered Knowledge Base
Read Time:
2 Minute, 49 Second
ImBee, a leading chat management company, has announced the launch of AiskBee, a powerful enterprise knowledge base that revolutionises customer engagement processes. With the integration of ChatGPT, AiskBee offers a unique approach to customer engagement, which streamlines sales and customer service operations, creates new revenue opportunities, and enables businesses to respond to customers in their preferred language.
"We are thrilled to introduce AiskBee as the first-ever ChatGPT-powered Enterprise Knowledge Base in Hong Kong," said Ken Chu, CEO of imBee. "AiskBee is designed to provide businesses with the tools they need to streamline customer service and sales operations, enhance their customer experience, and stay ahead of the competition."
AiskBee is a game-changing solution that uses contextual information to build and expand an enterprise's Knowledge Base, offering a range of advantages for various industries. Here are some of the benefits AiskBee can offer:
Improve responsiveness and optimise workload management
By integrating ChatGPT, AiskBee allows businesses to efficiently manage high-volume and multiple-product inquiries across multiple channels. AiskBee users and existing chatbots can use the reply suggestions to provide instant and accurate responses 24/7. For example, an e-tailer can reduce customer service workload and improve response time by using AiskBee to automatically address customer enquiries about the latest product information and availability.
Maximise cross-selling and upselling opportunities
AiskBee's advanced analytical capability can provide product and service suggestions for customer service representatives based on their customer conversations. This improves the success rate of cross-selling and upselling, enhancing profitability while staying compliant with changing business regulations. For instance, a securities firm can leverage AiskBee to process inquiries and offer the latest financial products and services information proactively based on a customer's account profile. This functionality can significantly improve sales efficiency without increasing risks.
Answer enquiries in the customer-preferred language
AiskBee enhances ChatGPT's language capabilities by allowing in both understanding and replying in Cantonese, Traditional or Simplified Chinese. As a result, customer service teams can easily communicate with customers in their preferred languages, leading to increased engagement and decreased miscommunication.
Your personal enterprise AI assistant
Through Content Sharing function, AiskBee can read, comprehend, and learn from various content types, including websites, PDFs, Word documents, and even zipped files, such as product leaflets, user manuals, and FAQs. AiskBee is capable of delivering more precise responses based on a company's existing brand values and guidelines. As a result, AiskBee can serve as a knowledgeable personal assistant for all enterprise users, supporting them as they engage with customers.
AiskBee represents a new standard in customer engagement and service, serving as the first-ever ChatGPT-powered Enterprise Knowledge Base solution for businesses in Hong Kong. By leveraging ChatGPT's context and intent understanding capabilities, the solution surpasses conventional chatbots, offering diverse ways to enhance customer engagement across various industries, including financial services, retail, telecommunications, healthcare, hospitality, and education.
ImBee utilizes enterprise data for model training, continuously improving the quality of suggestions. Additionally, the company prioritizes data confidentiality and security, safeguarding sensitive information from unauthorized access.
"AiskBee brings the power of Generative AI to enterprises while addressing the mandated data privacy, security and language regulations. Being trainable, it can help enterprises to customize dynamic engagements in the customer's preferred language. This can further strengthen customer stickiness, improve brand loyalty and, more importantly, build trust," Ken added.
AiskBee is set to revolutionize customer engagement and service. By integrating