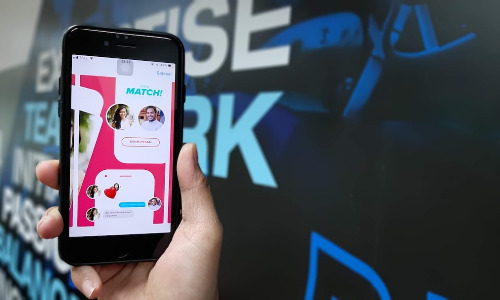 Hookup App, Tinder, Joins List of "Super Brands"
Read Time:
2 Minute, 59 Second
The latest list of iconic brands has awarded the dating app Tinder with Superbrands status. Tinder's recognition in the annual ranking reflects the growing trend of using matchmaking services to find potential partners. This is especially true as more and more people are turning to dating apps as a way to connect during the pandemic.
Other brands that received Superbrands status for the first time include Ester Lauder, a beauty company that has profited from the renewed interest in appearance post lockdown, investment business Hargreaves Lansdown, reflecting concerns about personal finances, and North Face, which has benefited from the growing trend of wearing outdoor fashion.
The annual ranking provides a yearly barometer of how consumers feel about certain brands and the emotional ties and resilience they have, even in times of household cutbacks. It also shows the impact that working from home and advancing technology is having on consumer behavior and lifestyle.
For the third year running, Rolex tops the Superbrands 2023 ranking, demonstrating how the premier watchmaker continues to withstand the test of time. The top five are rounded out by Lego, Samsung, Mastercard, and Apple. Lego has been boosted by its connections with Star Wars and Harry Potter, while Samsung's success can be attributed to its award-winning range of smartphones and other electronics.
Google entered the top ten for the first time in 11 years, a reflection of the growing number of businesses going online and the continued trend of working from home. Mastercard overtook its rival Visa to take fourth place, giving card payment companies an increasingly important stake in the consumer market.
British Airways had a successful year, with the return of foreign travel, especially among holidaymakers, contributing to its success. Haagen-Dazs served up sweet success with its luxurious ice cream, offering a little indulgence in daily routines. Other staples like Kellogg's have seen a sudden surge in popularity, with many turning to snacking for comfort and convenience.
Streaming giants Netflix and Sky have become household mainstays and are Britain's leading TV providers, according to the ranking.
The annual ranking of Superbrands has been providing an insight into the sentiments surrounding brands since its launch in the UK in 1995. This year's list was voted on by 2,500 professionals and 2,500 adults, backed up by a panel of 74 leading business experts. Of the 3200 brands across 86 consumer and 71 business categories assessed on quality, reliability, and distinction, 1308 achieved the necessary standard. Superbrands is considered impartial as brands do not have to pay or apply to be considered.
On the other hand, pharma giants Johnson & Johnson and GSK suffered from the decline in Covid 19, along with popular communication app Zoom and social media platform Facebook. Consumers are seeking out new, innovative products to meet their changing needs.
The four leading business brands, Apple, Google, Microsoft, and PayPal, have been identified as Superbrands, demonstrating how technology plays a vital role in nearly every industry today. According to Damon Segal, CEO of Superbrands UK, "to be considered a superbrand, a product or service must not only provide the utmost quality but also engage customers on an emotional level and stand out from its competitors."
Top 20 Ranking Consumer Superbrands
1 Rolex
2 Lego
3 Samsung
4 Mastercard
5 Apple
6 Visa
7 Kellogg's
8 British Airways
9 Google
10 Haagen-Dazs
11 Dyson
12 Andrew
13 Netflix
14 Heinz
15 Fairy
16 Nike
17 Coca-Cola
18 Sky TV
19 PayPal
20 Mercedes-Benz
Top 20 Ranking Business Superbrands
1 Apple
2 Google
3 Microsoft
4 PayPal
5 Emirates
6 BT
7 Mastercard
8 Samsung
9 Pfizer
10 British Airways
11 Visa
12 IBM
13 AstraZeneca
14 American Express
15 Adobe
16 Virgin Atlantic
17 Intel
18 Aviva
19 FedEx
20 Barclaycard