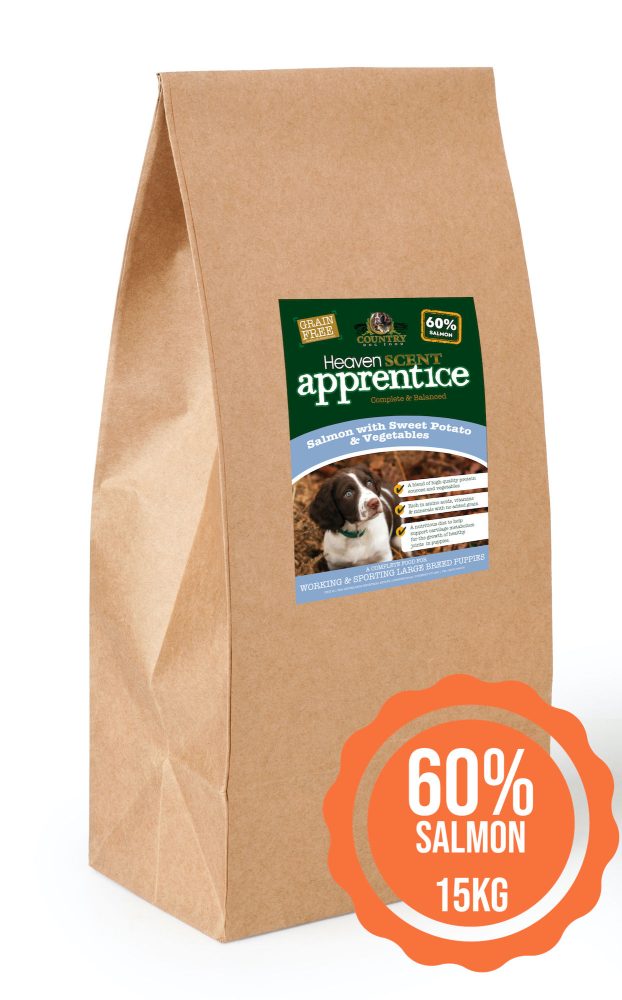 Grain Free Food for your Working Puppy
Read Time:
1 Minute, 41 Second
Introducing the perfect solution for your growing puppy's nutritional needs –Country Dog Food's Grain Free Working Puppy Food! This food range has been designed specifically for puppies with grain intolerance or sensitivity, using the finest freshly prepared and highly digestible animal protein sources, including salmon as the main ingredient.
Our Grain Free Working Puppy Food contains a minimum of 26% freshly prepared salmon, which is responsibly sourced and packed with amino acids, vitamins, and minerals. This delicious source of protein helps promote muscle growth and supports overall health in growing puppies. Additionally, our recipe contains a Joint Care Pack to support cartilage metabolism, which is essential for the growth of healthy joints in puppies.
At Country Dog Food, we understand the importance of cognitive and visual development during puppyhood. That's why we have added Omega 3 supplement to our recipe to support cognitive and visual development, giving your puppy the best start in life. Our formula also contains Provitamin L-Carnitine to promote the oxidation of energy during growth, ensuring your puppy is getting the right nutrients to help them thrive.
Our Grain Free Working Puppy Food contains no artificial colors or preservatives, and is naturally preserved using rosemary extract. We believe in providing the best possible nutrition for your growing puppy, which is why our formula is packed with all the essential nutrients your puppy needs for optimal growth and health.
With a balanced composition of 25% crude protein, 13% crude oil and fats, and 7% crude ash, our Grain Free Working Puppy Food has a metabolisable energy of 376Kcal/100g. We've also included 0.8% Omega 6 and 3.3% Omega 3, as well as calcium and phosphorus, to ensure your puppy's nutritional needs are met.
Give your growing puppy the best possible start in life with Grain Free Working Puppy Food. With its delicious taste and balanced nutritional composition, our formula is sure to help your puppy grow and maintain optimal health. Try it today and see the difference it makes