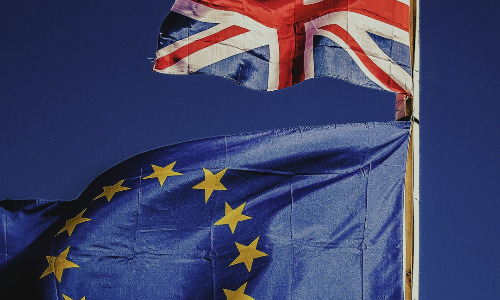 UK and EU Agree on New Post-Brexit Trade Deal for Northern Ireland
Read Time:
2 Minute, 16 Second
UK Prime Minister Rishi Sunak and President of the European Commission Ursula von der Leyen have announced a new deal to resolve the post-Brexit problems in Northern Ireland. The agreement, named the Windsor Framework, aims to ease the tensions caused by the Northern Ireland protocol, a complex agreement that set the trading rules for the British-ruled region. The new deal will remove "any sense of a border" between Britain and Northern Ireland, with a green lane for goods from Britain destined for Northern Ireland, and a separate red lane for goods at risk of moving onto the EU. Products coming into Northern Ireland through the green lane would see checks and paperwork significantly reduced, while red lane goods destined for the EU would still be subject to normal checks. The deal also introduces a "Stormont brake" which allows the Northern Ireland Assembly to raise an objection to a new goods rule. If 30 MLAs from two or more parties sign a petition, the process would be triggered, and the rule cannot be implemented without UK-EU agreement. The new process is not subject to oversight by the European Court of Justice and disputes would be resolved through independent arbitration.
Under the protocol, some EU law applies in Northern Ireland, but politicians had no formal way to influence the rules. The new agreement reduces the proportion of EU rules applied in Northern Ireland to less than 3%, and the European Court of Justice continues to be the final arbiter in disputes over these remaining rules. The deal scraps the controversial Northern Ireland Protocol Bill introduced under ex-PM Boris Johnson, which would have given the UK the power to scrap the old protocol deal. The UK VAT and excise rules will apply to Northern Ireland for alcoholic drinks for immediate consumption and immovable goods such as heat pumps, while EU VAT rules will still apply for other items. The deal also lifts bans on certain products like chilled sausages entering Northern Ireland from Britain and seed potatoes and 11 native British trees.
The deal seeks to improve relations with Brussels and the United States, without angering the wing of Sunak's party most wedded to Brexit. Its success will depend on whether it convinces the Democratic Unionist Party (DUP) to end its boycott of Northern Ireland's power-sharing arrangements central to the 1998 peace deal known as the Good Friday Agreement which mostly ended three decades of sectarian and political violence in Northern Ireland. Sunak immediately won plaudits from business groups who welcomed the easing of trade rules, and an EU promise that it would be willing to allow British scientists to join its vast research programme if Sunak's party accepts the deal.