Trainee Rises to CEO – Thanks to Alarm Clock
Read Time:
4 Minute, 26 Second
A former sales trainee, who was almost fired after turning up 90 minutes late to work in his first week, has been appointed CEO of a multi million pound business.
Chris Meredith has just been appointed to the top job at 80 strong officebroker.com where his journey from sales floor tea boy to boss took just eight years.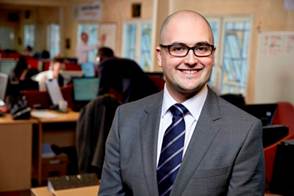 But the 28 year old from Sutton Coldfield, West Midlands, was threatened with the sack at the start of his career in 2004 after sleeping in hopelessly late twice in the first two weeks.
He was warned by the company's founders that he faced instant dismissal if it happened again and decided to invest in an extra loud alarm clock.
He was never late for work again – but the episode earned him the nickname 'Bear' after colleagues joked he hibernated for winter.
But after a shaky start he knuckled down with real determination to show the company's founders what he could do.
He asked to be allowed to concentrate on the central London office market – the company's busiest and most lucrative segment.
But after being told his strong Birmingham accent could suggest a lack of local knowledge to some southern clients he decided to learn all 150 of the central London office buildings on the firm's books by heart, drawing detailed maps of zone one from scratch to demonstrate his knowledge of the area.
His dedication paid off and he was quickly making huge deals for the multi-million pound turnover business. He was swiftly rewarded with a promotion to a role as a central London sales consultant, before taking a position as training and development manager, which saw him play an integral role in launching the firm's first US office in Dallas, Texas.
Since then he has continued to climb the career ladder at the Tamworth based company which now has offices in the US and Australia.
In 2009 Chris was promoted to head of UK sales, a position overseeing the firm's 30 sales consultants and enquiries from more than 30,000 businesses each year, before finally being asked to take the lead of the company last month.
He said: "I remember my first interview with the firm's founders Jim Venables and Andy Haywood. The business had only just been launched and they were keen to find the right people and so gave me a real grilling – I felt like I was on The Apprentice.
"They said to me, 'Show us you're not just a typical kid from Sutton Coldfield living off mummy and daddy. Tell us what motivates you and why we should give you a job.' I had always been extremely driven and managed to convince them to offer me a role.
"However my career was nearly over before it had begun as after sleeping through two alarms I arrived an hour and a half late twice in my first two weeks and was told in no uncertain terms if it happened again I wouldn't be coming back."
Chris says he was honoured to be asked to take the helm of a market leading business which had experienced consistent year-on-year growth and said he felt justified in his belief in Andy and Jim's initial vision.
He said: "When I first sat down with Andy and Jim they told me they wanted a company where people who worked hard would progress fast and that if I showed enough drive I could be CEO within ten years. It was great to hear and I was keen to see if I could make their prediction come true.
"It was a real flurry of emotions when I was offered the role. I felt euphoric at having made the ultimate progression and reaching my career goal and then the penny dropped that I would be responsible for more than 80 employees. Jim and Andy are still involved with the business but ultimately the buck now stops with me.
"I've always had huge self-belief and so welcomed the challenge but it's fair to say the first month in the role has been a whirlwind. You have to learn lessons quickly and I think the biggest is to understand what to delegate and when. You can't do everything yourself and you have to believe in the team around you otherwise you've got no chance."
Chris says he hopes he can continue to drive the company forward in the same way as the founders who first employed him did and has already set some ambitious targets for the next couple of years.
He said: "We're a sales business and therefore we always have to be driving forward – if we ease off we fail and so I have set a tough target of doubling profitability within two years.
"We want to diversify into new areas to increase our number of revenue streams and one area we're looking at in particular is to really make inroads into several European markets."
He concluded: "A first week dressing down was just the wakeup call I needed and an investment in an extra loud alarm clock was one of the best career decisions I have ever made."