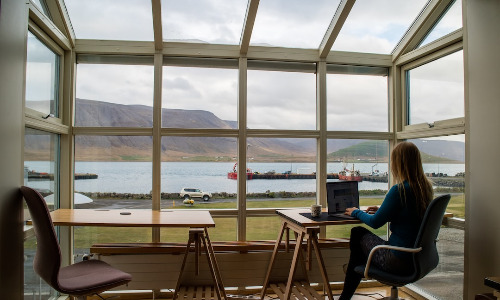 Forcing staff to return to the office doesn't address their reluctance to do so
Read Time:
4 Minute, 44 Second
The COVID-19 pandemic has forever changed the way we work. While remote working has become the new norm, many employees are now hesitant to return to the traditional office setting even as vaccination rates increase and restrictions ease. Several companies including KPMG, Starbucks, and Twitter have mandated an increase in office returns, but global workplace creation expert, Unispace, warns that this approach may not be effective in addressing employee reluctance to return. The root cause of this reluctance must be addressed before mandating a return to the office. According to Unispace CEO, Lawrence Mohiuddine, this includes changes to the workspace to better accommodate the new world of work and meet the needs of employees.
The pandemic has caused a shift in the way people view work, and many employees have found that they can be just as productive working from home. It has given them the opportunity to spend more time with family, eliminate long commutes, and even save on expenses such as transportation and clothing. Many are hesitant to return to the traditional office setting for fear of losing these newfound benefits. A report by LinkedIn found that 54% of professionals would like to continue working remotely for at least half of the week after the pandemic.
However, mandating an increase in office returns is not the solution. Unispace's Lawrence Mohiuddine warns that this approach will be detrimental to employer brands and culture, as well as staff productivity, motivation, and creativity unless the root cause of this reluctance is addressed. Mohiuddine states that "staff need to want to be in the office, not told they have to."
Unispace conducted a study of 3,000 office workers across Europe, which found that staff want to see improvements in the working environment, with 95% of those surveyed indicating a desire to make various physical changes to their office. The top four elements identified included creating areas for private work, adding more amenities, improving the overall layout, and adding more outdoor space. If these requirements are not being considered before mandates are put in place, businesses could risk an exodus of talent who are unhappy with the set-up they are being forced into.
One of the biggest concerns for employees is their health and safety. Companies must ensure that they have the necessary protocols in place to protect their employees. Many workers fear that returning to the office will increase their risk of exposure to COVID-19, especially if they work in a densely populated area or have to commute on public transport. To address this, companies need to provide a clean and safe working environment, including regular cleaning, social distancing measures, and access to hand sanitizers and face masks.
Another reason why employees are hesitant to return to the office is the lack of flexibility. The pandemic has shown that remote working can be just as effective as traditional office work, and many employees have come to appreciate the flexibility it provides. They have been able to work from home, take care of children, and manage their time more effectively. Going back to the traditional office setting would mean losing this flexibility. Companies must address this concern by offering flexible working hours, part-time work, or even job-sharing options.
Many employees also feel that their mental health has improved during the pandemic, and they are worried that returning to the traditional office setting may negatively impact their mental health. The pandemic has brought about a shift in the way we view mental health, and employees are now more aware of the importance of work-life balance. Companies need to prioritize employee mental health by providing access to mental health support, flexible working hours, and other benefits such as counseling services and wellness programs.
Finally, many employees are hesitant to return to the office due to the impact it will have on the environment. The pandemic has shown that remote working can reduce our carbon footprint and help to protect the environment. In addition to physical changes to the workspace, there are other factors that are contributing to the reluctance of workers to return to the office. One major concern is the risk of exposure to COVID-19 in communal spaces such as elevators, shared workstations, and break rooms. Workers may also be concerned about the added expense and time required for commuting to and from the office, as well as the potential loss of flexibility and work-life balance that they have enjoyed while working from home.
Another factor to consider is the changing attitudes towards work and the role of the office in a post-pandemic world. Many workers have become accustomed to the flexibility and autonomy that comes with remote work, and may not be willing to give that up entirely. They have also experienced the benefits of a better work-life balance, including more time with family, reduced stress, and improved mental health. As a result, companies that mandate a full-time return to the office may find themselves at a disadvantage in terms of attracting and retaining top talent.
To address these concerns, companies need to take a holistic approach to the return to the office, one that considers the physical workspace as well as the broader cultural and societal changes that have occurred as a result of the pandemic. This may include offering hybrid work models that allow employees to work from home for part of the week, as well as providing flexible schedules and enhanced benefits such as mental health support and childcare assistance. By taking these steps, companies can create a workplace that is attractive to top talent, while also meeting the needs of their existing workforce.