DOES YOUR OFFICE NEED A THIRD SPACE?
Read Time:
2 Minute, 35 Second
The 'third space' is something that everyone in office design is talking about, but what is it and how can it change the workplace for the better?
It can be defined as a theoretical place between home and work, but design and fit-out company, Eos Interiors, says it can be more helpful to think of the third space as a place between our workstations and formal meeting rooms. And to practice what it preaches, the company has just updated its office space to include its own 'third space'.
Comments Eos Interiors director, Peter Leach: "The two main assets within any organisation, its people and the technology they access, are changing more rapidly than at any time in history. The office environment needs to change too – to cope with these advances in technology and changes in the way we live our lives".
"Technology means we no longer need to be tied down to one spot with less need for a desk and, with employees more mobile, both they and their employers can benefit from a more flexible way of working. A well-designed third space can accommodate a range of different functions in one location, offering a variety of different working options and helping to increase productivity and creativity."
When Eos Interiors launched its showroom and office in Birmingham's Jewellery Quarter last year, it included a formal meeting room.  Now the company has refreshed this to become a more informal space for meetings and other flexible ways of working – a third space.
Peter Leach adds: "As a business, we want to create a live case study to inspire our clients, as well as providing a great place for our team to work in. By replacing the traditional concept of a meeting table with a more agile area, the team have increased the possibilities in the space.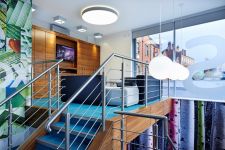 "We are keen to explore the latest innovations in office design and furniture, and trialling them ourselves is a key part of this exploration. The new space features some of the latest products including Boss Kruze lounger chairs Flamingo tables, which are complimented by the new Haven Bench seating from Allermuir."
Peter adds: "Incorporating a 'third space' is something that an increasing number of our clients are doing, and we think this trend will continue. Many employees are no longer in the office from 9am until 5pm every day, and so replacing some of the workstations with more agile working areas can result in a more efficient work setting and cost savings.  In fact, a well-designed third space can open up the scope to increase remote working without damaging productivity.
"The new collaborative, connected workplace is not only about redefining our mind-set about what furniture we need and how our space needs to be reconfigured to be effective, it requires a new appraisal of how people and technology interact for the benefit of employer and employee.  The technology revolution offers new potential that will require all of us to embrace flexibility and change how we work and collaborate. We think the third space is just the beginning…"