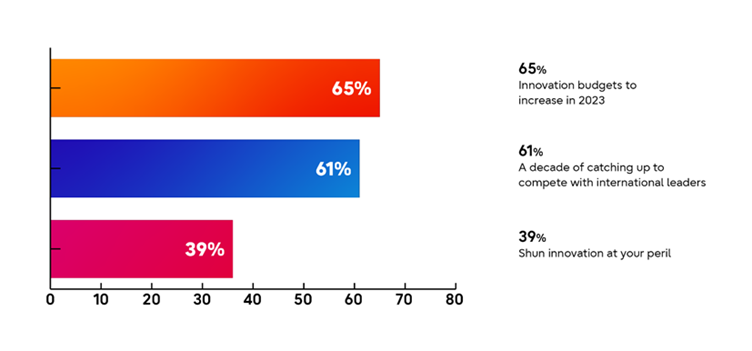 UK Organisations Struggle to Keep Up with International Innovation Leaders Until the End of the Decade
Read Time:
2 Minute, 19 Second
New research by Fujitsu has found that over half of UK organisations believe they will not be able to compete with international innovation leaders until the end of the decade. The study surveyed executives across the country, revealing that a lack of skills among employees was a growing concern for the C-Suite, with 45% believing their teams are not equipped to effectively utilise advanced technology. Additionally, 38% of executives claim that a lack of incentivisation to innovate and adopt emerging technology, such as artificial intelligence and quantum computing, is also a major barrier to unlocking innovation.
The fear of failure is forcing over a third (36%) of decision-makers to shun innovation initiatives completely. To help circumvent talent shortages and concerns of failure, the study recommends learning from other leading economies such as Japan, the US and Germany. However, few executives see any quick-fix, with 61% of organisations suggesting it could take between 5 and 10+ years to compete with international leaders.
To drive innovation and unlock growth, 89% of private sector businesses are willing to collaborate with competitors, with more than half (65%) of C-Suite leaders expecting to increase innovation budgets in 2023.
Keith Dear, Managing Director of Fujitsu's Centre for Cognitive and Advanced Technologies, commented on the findings, saying: "The survey suggests C-Suite leaders want to seize the opportunity presented by transformational technologies, but are unable to secure this advantage due to significant skills shortages."
Despite this investment, slow implementation of emerging technologies is the top reason why 44% of organisations are unable to grow. Most significantly, the ability to quickly implement emerging technologies (41%), scale up ideas for widespread use (38%), and measure the impact of innovation (38%) were identified as the top three factors to generating revenue growth.
Encouragement can be found in how organisations are continuing to invest in their future. On average, UK firms and public sector bodies are spending over £62 million per year on R&D, with as little as one in five (18%) innovation projects failing to succeed.
Vivek Mahajan, Chief Technology Officer at Fujitsu, concluded: "This survey highlights many of the pain points that leaders are experiencing today, such as a dearth in skills, the fear of getting it wrong and importance of cultivating a culture that empowers them to be brave with ideas."
The study recommends that innovation needs to have a clear purpose to succeed and requires multiple parties to collaborate and support one another as they aim to answer the biggest issues affecting society.
To read more about the study, please click here.
Established in June 2022, Fujitsu's Centre for Cognitive and Advanced Technologies serves as a catalyst for cross-sectoral innovation and wider transformation, focused on the commercialisation of research and partner collaboration.