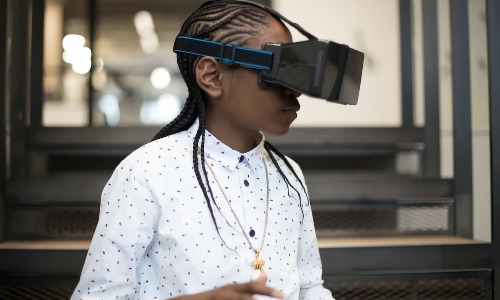 Colorintech Launches '100 Worlds in 100 Days' to Help UK Businesses Build Inclusive Metaverse Products
Read Time:
2 Minute, 11 Second
Colorintech, a non-profit organisation supporting diversity and inclusion in the tech industry, has announced its largest UK metaverse programme, '100 Worlds in 100 Days'. The initiative aims to educate over 200 UK businesses to develop, build and scale immersive products, tools and services with support from Meta, the world's leading tech giant.
The 100 Worlds in 100 Days programme will offer creators a series of workshops, webinars, and community networking events that will provide the skills, tools, and knowledge they need to build diverse and inclusive virtual worlds, experiences and businesses. Selected applicants will have the opportunity to join a trade delegation supported by Meta to help scale their businesses to new markets.
Colorintech is committed to creating a more diverse and inclusive tech industry, while Meta is committed to building a metaverse that is accessible to everyone. The partnership is dedicated to providing growth and development opportunities for all.
Ashleigh Ainsley, co-founder of Colorintech, said: "We believe that the metaverse has the potential to bring people together and grow business opportunities in new and meaningful ways, and we are committed to helping more people build new platforms that are accessible and importantly, inclusive."
Applications for the 100 Worlds in 100 Days programme are now open to both established businesses and brand new ideas and concepts. Following all applications, 100 will be shortlisted to receive training and guidance, with the top ideas then being pitched to a panel of experts to receive additional support at the end of the 100 days. The initiative offers mentorship and support to help creators overcome any challenges they may face in the process.
Meta will work with Colorintech to provide more than 50 hours of free resources, support, and guidance for start-up creators and more established businesses looking to build inclusive virtual worlds, experiences and business ideas.
Nick Clegg, President, Global Affairs at Meta, said: "The metaverse has enormous potential to transform how we work, learn, communicate, and experience the world around us. We want it to be for everyone. To make this a reality, it needs to be a collaborative approach. We are proud to support Colorintech and partnerships like this to ensure we're building the metaverse responsibly and inclusively from the start."
Colorintech has been working to address the lack of diversity in tech since 2018, by providing training, mentorship, and networking opportunities for underrepresented groups in the industry. With initiatives like 100 Worlds in 100 Days, they continue to make strides towards their mission.
Applications for 100 Worlds in 100 Days are now available on their website until the last cut-off date.