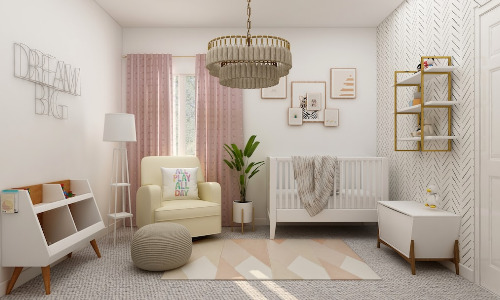 Mokee: Creating a Cosy Nursery for Parents and Baby
Read Time:
3 Minute, 2 Second
Transforming a nursery into a cosy space for both parents and baby to enjoy is essential. Mokee, the UK-based baby brand, offers a wide range of textiles crafted from premium materials, including organic cotton and hypoallergenic fabrics, to make your baby's space feel like home. From soft and breathable fitted sheets, beautiful luxury blankets, to stylish crib bumpers, the range is designed with baby's comfort and safety in mind, followed by Scandi-inspired design.
Mokee's textile range boasts an array of colours and prints to match any nursery decor, from classic neutrals to playful patterns. The collection is machine washable, making them easy to care for and keep fresh. The range includes a great selection of blankets that are perfect for friends and family to gift once the baby arrives, at a baby shower or a gender reveal. The Natural Linen Blankets in neutral tones, or the 100% Cotton Knitted Two Colour blankets, which go with every nursery decor, are just a couple of examples of what's available. For parents embracing lots of colour, the Cotton Blanket Pattern comes in Rainbow and Stripes.
Mokee's bedding options offer something for everyone. The Cot Bedding Sets are great value at £39 and come in seven different styles. The Patterned Bedding Set comes in at the same price with three options, and the Natural Italian Linen Bedding Set comes in three gorgeous luxury colours. Whether it be fun and playful or neutral, Mokee has bedding sets to suit any taste.
For those hesitant to buy without seeing or feeling the product, Mokee offers a 30-day return policy and 365 days full warranty. With next day shipping available, Mokee makes creating a cosy nursery for your little one as stress-free as possible.
Mokee's founder, Tomasz Kozysa, believes that parents should be able to create a beautiful nursery without breaking the bank. That's why Mokee provides premium quality and stylish designs at affordable prices. By offering premium textiles, Mokee ensures parents that their baby's comfort is the top priority, while also providing stylish options that parents will love.
Kozysa, a father himself, understands the importance of having a safe and comfortable space for your baby. He said, "At Mokee, we know that babies spend most of their time sleeping, and that's why we want to ensure that parents can create the perfect sleep environment for their little one. We believe that the nursery should be a place where both baby and parents feel comfortable, and our range of textiles is designed to help achieve that."
Mokee has gained a reputation for being a one-stop-shop for nursery essentials. The brand provides parents with everything they need to create a cosy and safe space for their little one, from cribs to changing tables and storage solutions. The brand's success lies in its ability to create a range of products that are practical, stylish, and affordable.
In addition to its extensive range of textiles, Mokee's nursery furniture has also been designed with both baby and parents in mind. The brand offers a range of modern, stylish furniture options that are safe, functional, and practical. Mokee's cribs are made from sustainable wood, and the brand's changing tables are designed to make changing nappies as easy as possible.
Mokee's attention to detail and commitment to providing parents with affordable and practical nursery solutions has earned it a loyal customer base. The brand's success is evident in the many positive reviews from parents who have created beautiful and safe nurseries with Mokee's help.
Creating a cosy nursery for your little one has never been easier or more affordable than with Moke