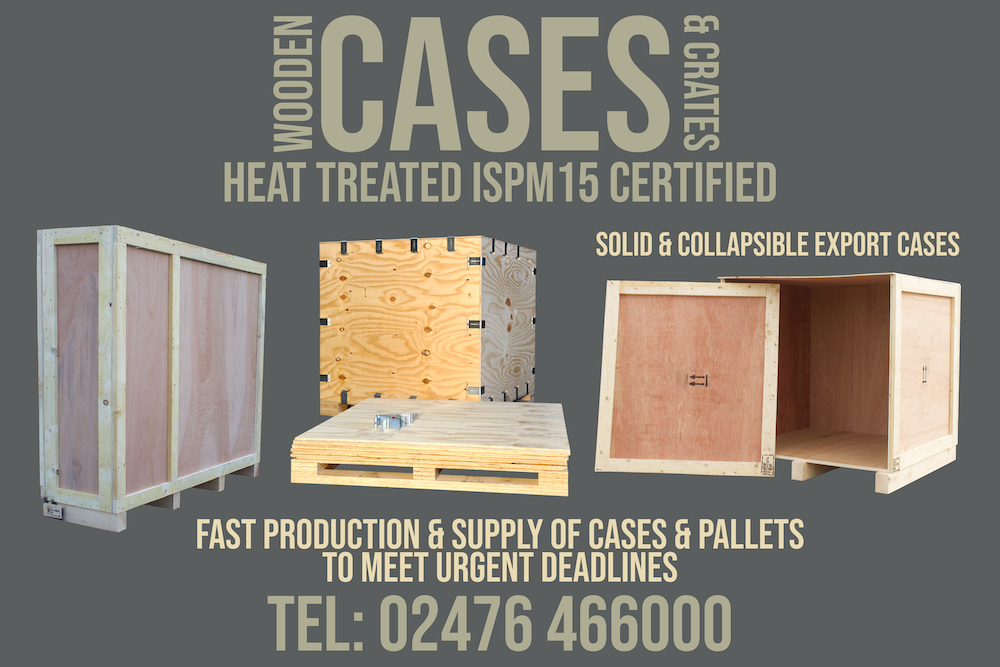 Defenda Provides High Quality Wooden Shipping Crates and Cases to Protect Goods in Transit
Read Time:
3 Minute, 42 Second
Defenda Transport is a UK-based company that specialises in the manufacturing of bespoke and custom-made heat-treated ISPM15 wooden packing crates, cases, and pallets. Their custom wooden shipping crates & other products are made to order and are of the highest quality. The company works with some of the world's best-known brands and companies to ensure their goods are well protected during transit. However, they are equally at home working with smaller companies and even individuals who require quality shipping cases, crates, or boxes.
The shipping crates and cases produced by Defenda can be used for anything from small pieces of artwork such as paintings to cases large enough for prototype vehicles. Therefore, they are suitable for industries such as automotive, art, and museum sectors, among others. Defenda can manufacture ISPM 15 certified pallets from heat-treated timber in both the standard UK pallet size of 120cm x 100cm and Euro pallet size of 120cm x 80cm. The company can also manufacture bespoke heat-treated pallets custom-made in other sizes for exporting to the EU or worldwide.
Defenda's same-day build and delivery service is quite impressive & essential for clients requiring custom wooden shipping crates for urgent shipments. Although they prefer more notice, they can produce and deliver wooden shipping crates and cases on the same day clients place their order. This allows for the exporting of an urgent item on the day of the case order or the following day. Defenda's cases are ISPM 15 certified, allowing them to be exported to all parts of the world, including EU countries that previously did not require certified packaging.
Defenda's crates are regularly used for prototype EVs, including cars, vans, and motorbikes. They work with several F1 teams to ensure damage-free transit of components, among other things, to Grand Prix and other motoring events worldwide. The company's bespoke wooden cases and crates for displays are the perfect way to ensure the safe transit of panels for LCD and LED video walls. This ensures that clients are not left disappointed with damaged audio-visual equipment and unable to make the impact they intended when setting up their stand or conference.
Defenda's collapsible cases can easily be assembled using clips. These cases allow easy storage of the cases until they are required and can be disassembled after use and reused when required. These cases are constructed using OSB and do not require ISPM 15 certification for international shipping. Defenda also provides a convenient clip lock wooden case as an easy and strong reusable packaging solution.
Wooden shipping crates are crucial to British businesses that export their products internationally. A company's revenue can increase if their goods are protected during transit. Wooden crates ensure that products arrive at their destination without damage, which helps to maintain the reputation of the company.
Custom-made wooden crates are especially useful for different industries and sectors in British business. For example, the automotive industry often ships prototype cars, vans, and motorbikes for testing or showcasing purposes. These vehicles are usually very valuable, and any damage during transit can be costly for the manufacturer. Therefore, it is important to use high-quality wooden crates that are designed specifically for the vehicles being transported.
In the art industry, wooden crates are essential for shipping valuable artwork, sculptures, and other art pieces. Art pieces are often irreplaceable, and any damage during transit can be catastrophic for the artist or collector. Therefore, it is important to use high-quality wooden crates that are custom-made to protect the artwork during transit. Museums and galleries also require custom-made wooden crates to transport their collections safely.
In the electronics industry, wooden crates are used to ship expensive and fragile equipment such as large screen LCD and LED displays and TVs for UK and international exhibition and event organizers. These items can be damaged easily during transit, and wooden crates offer the best protection levels.
According to a spokesman for Defenda Crates, when absolutely necessary they can often provide same day manufacture and delivery of ISPM 15 heat treated shipping crates to companies around the UK. The company spokesman said "We make absolutely no distinction between companies in major cities like: London, Manchester, Birmingham, Liverpool, Bristol or Newcastle or those located in smaller towns near our production facilities like Sutton Coldfield, Rugby or Nuneaton we endeavour to help them meet any critical deadlines they have".