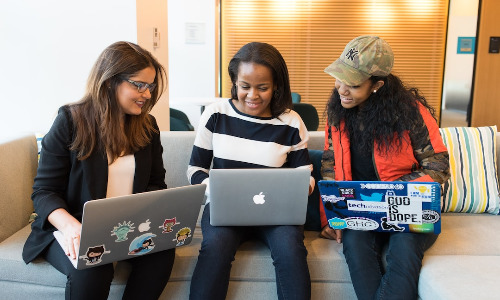 Free skills programme aims to support women returning to work
Read Time:
3 Minute, 11 Second
Women in Telford who are looking to re-enter the workforce have a new opportunity to develop their skills and build their confidence thanks to a free programme called Women Returners. The five-week course is being hosted by Virtual Internships, supported by Telford & Wrekin Council, and sponsored by property developer Morris Property.
Designed for women over the age of 19, the programme is a fully-funded employability and personal development course that aims to provide participants with the skills they need to get back into the workforce or start a new career path. The course is entirely remote, allowing participants to complete it from the comfort of their own homes.
Telford & Wrekin Council's director for education and skills, Simon Wellman, spoke positively about the programme. "Many women take a break from employment for lots of different reasons but are keen to return to work," he said. "This short programme can give women the skills and confidence they need to get their careers back on track or start out on a completely new career pathway."
Virtual Internships is a company that provides people with the opportunity to discover remote work experience opportunities and new career paths, as well as upskilling with award-winning professional development programmes. Founded in 2018, the company focuses on four key areas: creating opportunities to support career growth and enhancing employability; preparing employees for the 'future of work'; creating talent pipelines and access to jobs worldwide; and reducing cultural barriers and widening participation and opportunities for underserved communities.
Eduard Sava, Partnerships Account Manager at Virtual Internships, spoke about the company's commitment to helping women return to the workforce. "At Virtual Internships we recognise that women are struggling to return to work, particularly post-pandemic and are excited to bring this programme to the Telford area in partnership with Morris Property and Telford & Wrekin Council," he said.
"Our programme has a very flexible approach, and we are working hard to ensure that we accommodate women from any background. We are looking forward to assisting women to recognise their own talents and skills, help to showcase them to employers and offer them the confidence they need to return to the workplace."
The Women Returners programme is fully funded, and there are 20 places available. The course starts remotely on Monday 24 April, and those interested in participating can book a chat with Telford & Wrekin Council's National Careers Service Advisor, Rosie Gibney, on 01952 381061 to discuss their application.
The programme is part of Morris Property's commitment to social value. The Shropshire-based commercial property developer has 100 years' experience building, restoring and leasing commercial developments and is sponsoring this programme as part of its efforts to support local talent and build a sustainable and diverse workforce.
Steve Flavell, Morris Property Contracts Manager, spoke about the importance of working together to support women in the community. "We're excited to fund this programme for women in Telford," he said. "It's vital we work together to open doors for women of all ages, helping us connect, support local talent and build a sustainable and diverse workforce."
In addition to the Women Returners programme, Telford & Wrekin Council's Job Box Service offers a range of support for people of all ages, including careers advice, support with CV writing and interviews, and communication skills. The council has a team of dedicated careers advisors who are available to help those looking to re-enter the workforce.
Overall, the Women Returners free skills programme is an exciting opportunity for women in Telford who are looking to re-enter the workforce or start a new career path. With fully-funded support and a flexible approach, the programme is designed to help participants develop the skills and confidence they need to succeed.