BARRATT HOMES PLEDGES 1.5 ACRES OF LAND TO HELP THE BRITISH HONEY BEE
Read Time:
3 Minute, 2 Second
BARRATT HOMES PLEDGES 1.5 ACRES OF LAND TO HELP THE BRITISH HONEY BEE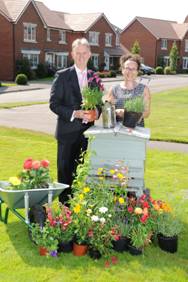 Leading local homebuilder Barratt Homes North Midlands is joining the fight to save the British honey bee, by planting more bee friendly plants across 1.5 acres of gardens and open spaces.
Teaming up with leading bee charity, the British Beekeepers' Association (BBKA), Barratt is setting out to change the way it landscapes open space and plants gardens in show houses at 400 developments over the next three years. Barratt Homes North Midlands will be working with the BBKA on how to encourage bees and change its planting, to ensure the bees' food supply is maximised.
The news comes as Environment Minister, Lord de Mauley, has pledged to publish a pollinator strategy and an urgent government review into the declining number of British bees by the end of 2013. The BBKA has reported that a third of all honey bee colonies were lost in winter 2012– more than double the losses of the previous year – and the charity is stepping up its campaign to encourage people and businesses to play their role to help save British bees.
Mark Clare, Barratt Developments Group Chief Executive commented: "For some time we've worked at a local level with beekeepers and planted bee-friendly plants at a small number of our developments. Today, we're announcing our partnership with the BBKA and how, with its advice – over the next three years – bee-friendly planting will become standard practice in all our show home gardens and open spaces. We'll also be working with our home owners to provide help and advice in creating bee-friendly environments – whether it's a window box, roof terrace or wild flower meadow."
Jane Moseley, Operations Director of the British Beekeepers' Association (BBKA), added: "A third of food we eat is dependent on pollination yet last year was the worst on record for the loss of honey bee colonies. Given the amount of landscaping at its 400 developments nationally, we are delighted to be working with Barratt Homes North Midlands to raise awareness of the British honey bee. More bee-friendly space will help to increase the bee's food supply, providing them and other pollinators with more adequate nutrition, especially pollen during the late summer when the specialised bees, which take the colony through the winter, are born."
In 2008, the BBKA estimated that honey bees make a significant contribution to the £165 million annually generated for the UK economy through pollination by insects, with the figure put at £200 million in 2009 by the UK's Public Accounts Committee.
TOP 5 TIPS TO SAVE THE BRITISH HONEY BEE
Ensure at least two plants are in flower from early spring until late summer to provide food throughout the season
Plant bee-friendly plants in drifts, in sunny places rather than in the shade
Look for plants at garden centres and nurseries, which have either the BBKA 'Good for Honey Bees' or Royal Horticultural Society 'Bee-Friendly' plant labels to help identify the best plants
Provide bees with a source of water – a pond, water feature, bird bath or even a saucer will be appreciated by thirsty bees
Never use pesticides on plants when they are in flower
BEE-FRIENDLY PLANTS
·         Roses
·         Clematis
·         Geraniums
·         Cornflowers
·         Lavender
·         Buddleia
·         Wigelia
·         Fuschias
·         Poppies
·         Pansies
·         Fruit trees
·         British wild flowers
For more information on how individuals can become a 'Friend of the Honey Bee' visit www.friendsofthehoneybee.com