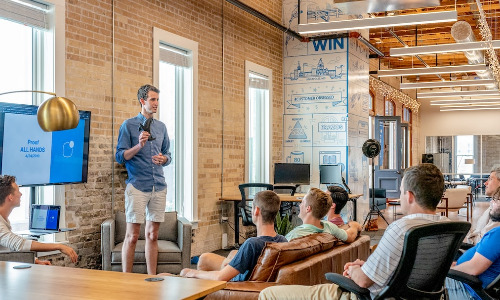 Trinity Business School's Full-time MBA Programme Ranks 26th in Europe in Latest Financial Times Ranking
Read Time:
2 Minute, 7 Second
Trinity Business School's Full-time MBA programme has been ranked as the 26th best in Europe in the Financial Times' (FT) latest ranking, released today. Alongside its ranking among the top 30 European programmes, Trinity's Full-time MBA has been named the best programme of its kind in Ireland in the FT's 2023 Full-time Global MBA Ranking.
The programme has been placed 87th globally and has excelled in the categories of 'employed at three months', 'international mobility', 'value for money', 'international faculty', 'female students', 'ESG and net zero teaching rank', and 'carbon footprint'.
Trinity's latest success in the FT ranking adds to its strong performance in global rankings, with Times Higher Education's World University Ranking placing the university as the top institution in Ireland. These results signify the School's continued commitment to offering a world-class education, with the school's Transforming Business for Good strategy at its core.
The Director of the Full-Time MBA Programme, Dr Radu Dimitriu, attributes the programme's success to the quality and relevance of its education, innovative MBA curriculum, and the quality of both the MBA learners and Trinity MBA faculty. The programme offers hands-on experience through three different live company projects, covering not only the classic disciplines of business and management but also the core areas of business analytics, artificial intelligence, and fintech of blockchain. Importantly, ESG and business sustainability are at the core of the programme, and the curriculum reflects that. The school recruits top MBA candidates to create a culturally diverse and gender-balanced cohort, and the passionate and highly acclaimed lecturers receive excellent reviews from the MBA class.
The programme's success is reflected in the career achievements of Trinity's MBA graduates, who carry forward the university's values of ethical, sustainable, and impactful leadership. Professor Andrew Burke, Dean and Chair of Trinity Business School, noted that the school has been transformed over the past eight years, nearly tripling in size and constructing a new eco-friendly building to base all its activities. The Dean expressed his excitement over the recognition of Trinity's achievements and its commitment to impactful ethical business practices, which are key objectives of the school's Transforming Business for Good: Horizon 2030 strategy.
The FT's latest ranking also shows that UCD has joined Trinity in these rankings and many other business schools in Ireland are now achieving top-tier international accreditations. As a country, this achievement highlights Ireland's objective to provide a world-leading management education sector that promotes ethical, humane, and eco-sustainable practices to enhance business and society.