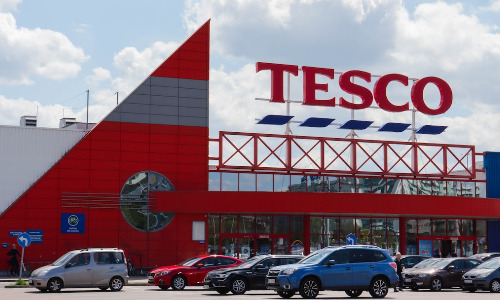 Tesco Profits Fall 50% as Customers Cut Costs and Focus on Value
Read Time:
3 Minute, 4 Second
Tesco, the UK's largest retailer, has published its financial results for 2022, revealing that its profits have fallen by 50% from £2 billion to £1 billion for the year as customers continue to cut costs and focus on value. While it maintained a strong sales performance amid rising inflation, the retailer saw its pre-tax profits fall to £1 billion by February 2023, down 50.8% from £2.033 billion the previous year. Group sales, excluding fuel, edged up 5.3% to £57.6 million, and sales volumes held up well despite "cost-of-living pressures and further post-pandemic normalisation".
Tesco said it had been shielding its customers from the worst of the cost-of-living crisis while competing with discount rivals Aldi and Lidl. The retailer added that its ongoing investment in strengthening its customer proposition has seen its "most competitive offer ever". Its retail operating profits slipped 6.1% to £2.49 million, driven down by market inflation and ongoing investment into its customer offering.
Tesco recently extended its price lock campaign and made its biggest ever investment in pay of over £450 million, with UK store colleagues now paid £11.02 per hour with access to additional colleague benefits. "It's been an incredibly tough year for many of our customers, and we have been determined to do everything we can to help," Tesco chief executive Ken Murphy said.
"Our results reflect our continued investment in delivering great value and quality for our customers, whilst at the same time looking after our colleagues. The resilience and agility that we have developed over the last few years have created a sustainable competitive advantage that leaves us well-placed to deal with any challenges that may arise. It has enabled us to deliver another strong performance across the Group, whilst continuing to make strategic progress. I am really confident that by investing to give customers the best possible value and continuing to look after our colleagues, we will create further significant value for every stakeholder in Tesco."
Co-founder and personal finance expert of price comparison site Choosewisely.co.uk, Tara Flynn, commented on the news. She said, "The profits of Tesco indicate that the supermarket has failed to respond promptly to the changing needs of its customers and has suffered the consequences. Although Tesco may present a contrasting narrative, it's apparent they've lost loyal customers to more affordable discount grocers. The introduction of the "Aldi price match" by Tesco speaks volumes. This week Tesco announced it's undercutting other supermarkets on the price of milk but seems oblivious that many consumers are switching from milk to non-dairy alternatives. The supermarket is a little behind with the times, which appears to be reflected in Tesco profits. Tesco has announced it will be increasing the minimum order value for online shopping next month from £40 to £50. Although the supermarket claims to prioritise its customers' welfare, this change will make it more challenging for individuals who only require a small number of groceries delivered, such as single or vulnerable people".
The retail giant faces stiff competition from discount supermarkets Aldi and Lidl, which have been taking market share from established players. According to industry analysts, the German retailers have gained a reputation for being cheaper and more focused on value than traditional supermarkets. Furthermore, they offer a simpler shopping experience with fewer choices and a focus on their own-label brands. This approach appears to be resonating with consumers who are looking to save money on their weekly shop.
Tesco has responded by introducing an "Aldi price match" promotion, where it pledges to match the prices of hundreds of Aldi products.