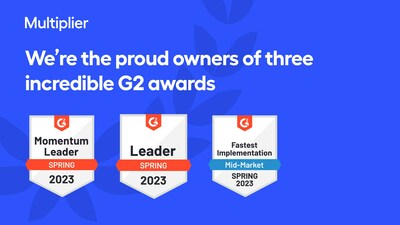 Multiplier Named Leader in Global Employment Platform by G2
Read Time:
2 Minute, 19 Second
Multiplier, a leading global employment platform, has been named a Leader in four G2 Grid® reports, including Multi-Country Payroll and its Momentum® Grid®. Additionally, Multiplier was recognized for being the Easiest Setup & Fastest Implementation in the same category. This recognition marks the second time that Multiplier has been named a Leader by G2, reflecting the company's growing footprint in the global employment space.
The accolades received by Multiplier are based on customer satisfaction scores derived directly from user reviews and market presence. These considerations include the seller's size and social impact. The company has achieved the highest customer satisfaction score of 4.6 out of five in the same category and has ranked #1 in seven other overall categories. These include Fastest Implementation, Best Support, Easiest Doing Business With, Best Meets Requirements, Easiest to Use, Easiest to Set up, and Best ROI.
Sagar Khatri, Co-founder and CEO of Multiplier, expressed his gratitude for the recognition received by the company. He said, "We are motivated by the trust and satisfaction Multiplier customers have shown us through this exceptional recognition by G2. Navigating the global employment space can be extremely challenging. From international compliance to local labour laws and policies, it is paramount that a trusted global employment partner like us shows up every day with on-ground expertise, a customer-first mindset, and the belief to drive meaningful impact for our customers and their teams. We are thrilled about this news, and we are now more certain than ever in our ability to empower companies to scale globally confidently."
In today's world, business leaders are increasingly seeking to tap into global talent pools to source the best talent available. However, in a recent study, 48% of executives cited that one of the most significant risks to their business achieving its growth targets lies in the talent shortage. Multiplier's Employer of Record (EOR) and payroll solution manages different processes across multiple locations in up to 200 currencies, allowing companies to process payroll for overseas employees in a timely and compliant manner. More than that, its EOR solutions simplify the employment process by managing the complexities of local labor laws, compliance, employment contracts, benefits, taxes, and more, all wrapped up in an easy-to-use SaaS solution.
Released each quarter, G2's Grid® Reports honor the world's leading software products across hundreds of categories. G2 recognitions are based on customer satisfaction scores derived directly from user reviews and market presence, including consideration for seller size and social impact.
The recognition by G2 cements Multiplier's position as a global leader in the employment space. The company's innovative solutions provide an easy-to-use, scalable, and compliant global employment platform, allowing companies to focus on growing their businesses by tapping into the best talent around the world.