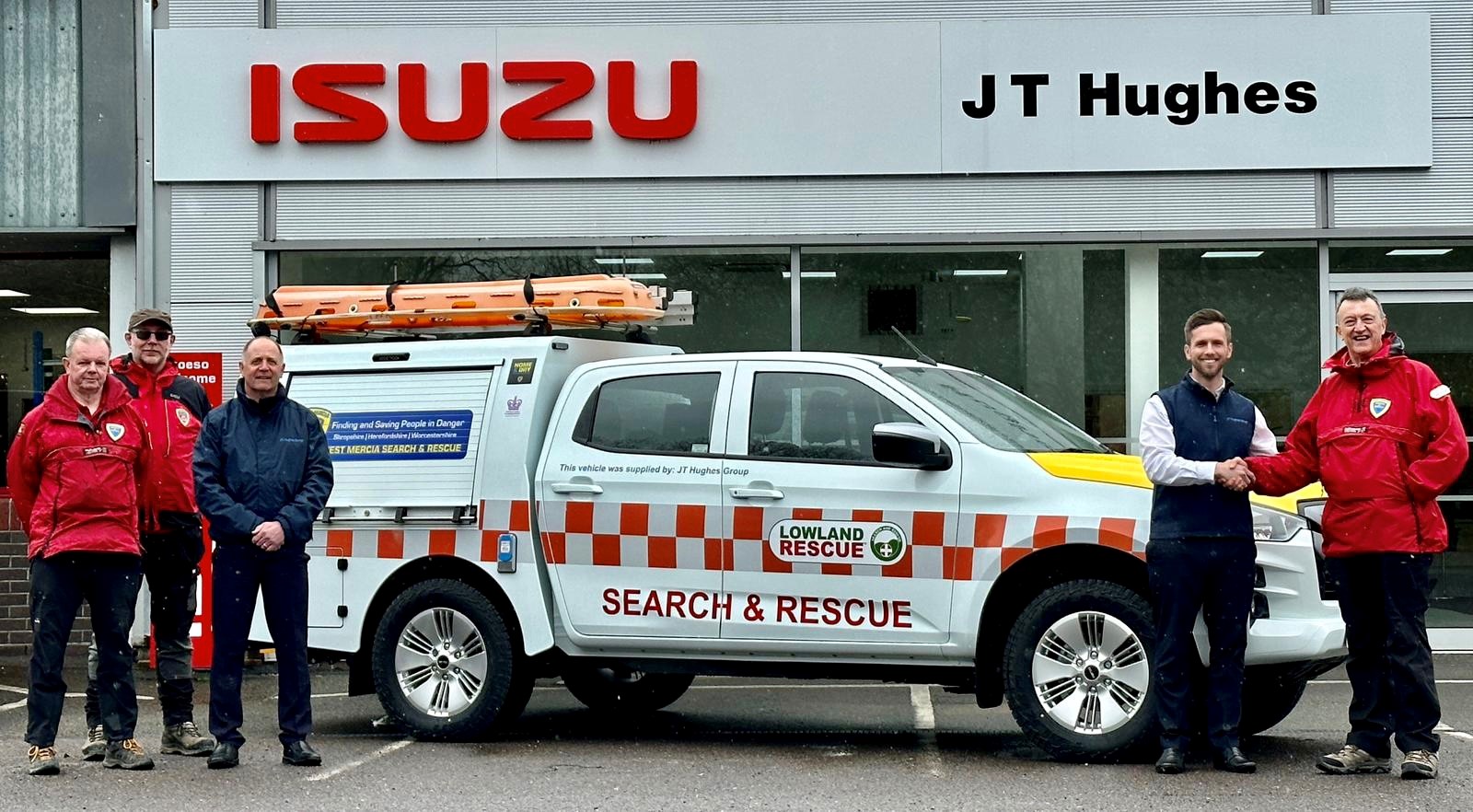 Isuzu Dealer J T Hughes Supplies Purpose-Designed Vehicle to West Mercia Search & Rescue
Read Time:
2 Minute, 27 Second
J T Hughes, the Newtown-based Isuzu dealer, has recently teamed up with West Mercia Search & Rescue (WMSAR), a local charity organisation, by providing an Isuzu D-Max DL20 pick-up. The charity will utilise the vehicle as a water support vehicle, fully equipped with water, river, and flood rescue kits. The pick-up can tow a trailer with two inflatable rescue boats and outboard motors and can launch in muddy river bank situations thanks to its towing and off-road capabilities.
J T Hughes has also been providing continued support for the charity by raising awareness through Chamber of Commerce meetings, and there are discussions surrounding further support that would help the functions of the charity.
WMSAR is a charitable organisation based in the United Kingdom that provides assistance to local emergency services and the community in the event of missing person incidents or other emergencies. Their highly trained volunteers are equipped with specialised equipment and work closely with local authorities to conduct search and rescue operations in both urban and rural areas. The organisation is entirely funded by donations and relies on the dedication of its volunteers to provide an essential service to the public.
J T Hughes Isuzu is part of J T Hughes Group and provides a variety of new and pre-owned Isuzu pickups, as well as maintenance and repair services. Customers can choose from the entire model range of Isuzu pickups with the assistance of a team of experienced sales representatives who are well-versed in the features and specifications of each vehicle. In addition to sales, the dealership offers financing options that are tailored to meet the needs of individual customers, with Pick-Up Professionals to assist in every part of the process.
Darren Astley-Williams, Group Local Business Specialist at J T Hughes, said: "We are delighted to be able to support a local charity such as WMSAR as we understand the huge challenge they face in being volunteer based. Thanks to the D-Max's unrivalled capability, this support vehicle will help the WMSAR team carry out their operations effectively and hopefully make a big positive impact in many people's lives."
Andy Neal, Seach Planner & Fundraising Officer at WMSAR, commented: "Our team are incredibly grateful for the support of J T Hughes Isuzu and their commitment to aiding our search and rescue operations. The supply of this pick-up truck is a prime example of how a charity can thrive from volunteer support, and we are certain that this contribution is the beginning of an encouraging and powerful relationship."
The partnership between J T Hughes and WMSAR was initiated through a connection made by the Shropshire Chamber of Commerce, and this new relationship is looking to be continued in the future. It is a prime example of how local businesses can help support their communities and make a real difference in the lives of those around them.