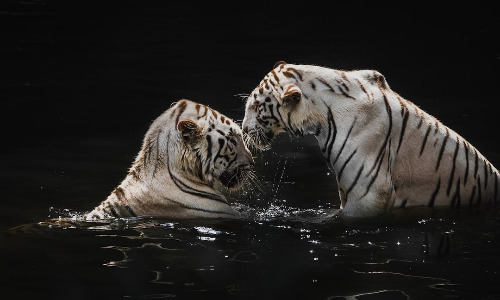 Woburn Safari Park Celebrates Valentine's Day with its Animals
Read Time:
2 Minute, 16 Second
The romance was in the air at Woburn Safari Park on Valentine's Day as animals and keepers celebrated the day of love with various activities. Among the activities were giraffe feeding and special treats for different animals in the park.
Nineteen-year-old Rothschild's giraffe Casper was the center of attraction as he enjoyed some delicious heart-shaped treats made of butternut squash, sweet potatoes, and roses with potential love interests Kimmy and Freya. Senior Keeper Jenny Fisher expressed the hope of replicating Casper's success in the past by using such activities to aid the breeding program.
In another part of the park, female Southern white rhinos Mirijam, Mkuzi, and Bonnie had their "galentine's" set up, where they received besties boxes wrapped by keepers. This activity was also part of the physical enrichment activities aimed at keeping the rhinos' minds and bodies active. Mirijam and Mkuzi have been favorites among visitors for over ten years, and Bonnie joined them in May 2021, and the trio have since been living together happily in the reserves.
The rhinos' galentine's build was a challenge for keepers because the rhinos are massive, and everything had to be on a larger scale. The activity proved a success, with the trio working together to demolish the treats.
In addition, the Land of Lemurs and African Jungle had primate playdates, where the lemur troop and Barbary macaques enjoyed different fruits and vegetables like beetroot, squash, and leafy greens in individual treat bags and boxes.
Woburn Safari Park has been operational since 1970, and it is one of the UK's oldest wild animal parks. The park covers more than 300 acres of beautiful parkland and houses hundreds of species of endangered, exotic, and native animals. Woburn Safari Park is a member and contributor to the British and Irish Association of Zoos and Aquariums (BIAZA) and the European Association of Zoos and Aquaria (EAZA), and is an EAZA accredited zoo.
The park has a history of species conservation and is committed to the captive management of endangered breeding animals through the EAZA Ex-Situ Programme (EEP). The park's attractions include the Road Safari, where visitors can see species such as Southern White Rhinos, a large herd of Rothschild's giraffes, monkeys, Amur tigers, African lions, North American black bears, and a herd of five Asian elephants. The Foot Safari is also available for guests to get out of their vehicles and interact with Humboldt penguins, red pandas, slender-tailed meerkats, lemurs, and more.
Woburn Safari Park is open daily from February 9, with tickets available for sale until the end of April. For more information on the park's special offers, opening times, and tickets, visit their website at www.woburnsafari.co.uk.