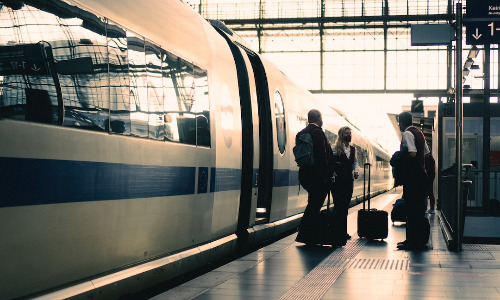 Rail Europe Takes the Stage at ITB Berlin 2023: Showcasing Solutions for Sustainable and Accessible Train Travel in Europe
Read Time:
2 Minute, 2 Second
Paris, France – Rail Europe, the global reference brand for European train booking, is excited to announce its first participation as an exhibitor at ITB Berlin 2023, the leading travel trade show from March 7 to 9. Rail Europe, the aggregator of the European train industry, will showcase its extensive range of products and solutions for travel, tourism, and mobility experts.
"We are thrilled to be participating in ITB Berlin and promoting sustainable and easy train travel in Europe. Our recent expansion into the European tourism industry reflects our commitment to making train journeys more accessible and meet the rising demand for environmentally responsible travel," says Björn Bender, Rail Europe President & CEO.
Björn Bender will also be taking part in a panel discussion entitled 'Carriers at the Crossroads between Decarbonization and Changes in Booking and Travel Behavior' on 7 March, from 1:00 to 1:45 PM at Hall 7.1b, Blue Stage. During the discussion, he will share Rail Europe's vision and strategy to enhance the rail travel experience throughout Europe, making it simpler, sustainable, and enjoyable.
As the global reference brand for European train booking, both for individual travellers (B2C) and travel industry (B2B) anywhere in the world, Rail Europe is dedicated to aggregating European rail at an international scale and making train travel easy and accessible. The company sells around 2.5 million European train tickets every year and its catalogue of products focuses on more than 100 brands such as SNCF, SBB, Eurostar, Thalys, Trenitalia, Italo, DB, Renfe, ÖBB, SNCB, NS, OUIGO Spain and National Rail, and rail passes including the Swiss Travel Pass and Eurail Passes.
Stay tuned for more information on Rail Europe's talks, events, and activities at ITB Berlin 2023, which will be revealed in mid-February. If you are interested in learning more about Rail Europe and its solutions for sustainable and accessible train travel in Europe, feel free to reach out for a personal meeting with a member of our team.
About Rail Europe:
Rail Europe is a global travel tech company and the trusted partner of the travel industry and train operators for 90 years. Our rail expert teams provide technology service solutions to over 15,000 travel professionals in 70 countries. International travellers who want to travel by train easily throughout Europe can also book their travel directly through our state-of-the-art train booking website and app. Rail Europe is headquartered in Paris.