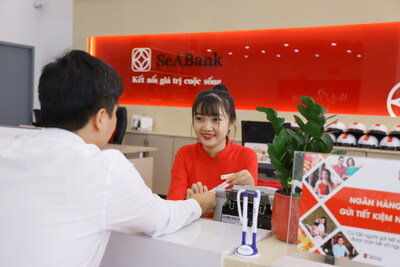 In 2022, SeABank successfully achieved its business plan objectives.
Read Time:
1 Minute, 24 Second
In 2022, despite unstable markets, SeABank (stock code: SSB) achieved stable growth, exceeding its profit-before-tax target of US$216.16 million and completing 104% of its profit plan with effective risk management and proactive business solutions. Its total assets reached US$9.87 billion, with a 9.34% increase, and its ROA and ROE were 1.83% and 18.1% respectively, showing SeABank's efficiency. The bank's cost-to-income ratio declined to 35.3% and bad debt reduced to 1.60%.
SeABank's net non-interest income grew by 43% to US$112.6 million, accounting for 12.7% of total revenue, due to product diversification, digital banking and non-credit activities, and effective customer profile utilization. The bank increased its charter capital to US$844.73 million and is on track to reach US$870.06 million with its 2022 ESOP program that benefited over 2,500 employees.
SeABank applied international standards, including Basel III risk management and IFRS, and received Ba3 ratings from Moody's in multiple categories. The bank expanded international cooperation, attracting investments worth US$500 million from DFC, IFC, and other funds, supporting SMEs and green credit and diversifying capital mobilization channels.
SeABank's "digital convergence" strategy improved its competitiveness with automation, AI, cloud computing, and digitization of products and services, leading to optimized costs and improved customer and employee experience. The bank reached impressive e-bank user growth with 941,608 new users. SeABank also expanded its network to 180 transaction points across 31 regions and received several awards such as "Vietnam National Brand 2022," "Top 1000 World Banks 2022," "Best Companies to Work for in Asia 2022," and "Bank of the Year."
0
0
ABBYY, a renowned leader in Intelligent Document Processing (IDP), has released its Global Trends & Outcomes Report, shedding light on...