BUSINESSES URGED TO SUPPORT DEMENTIA UK'S TIME FOR A CUPPA CAMPAIGN
Read Time:
2 Minute, 7 Second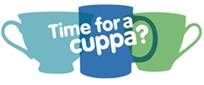 18 February 2013: As a recent BBC report highlights that over half of office workers regularly work through lunch, Dementia UK has called on businesses to bring back the teabreak, and support its Time for a Cuppa campaign; an annual, mass participation fundraising event, which this year runs from 1st – 8th March.
Time for a Cuppa is dedicated to raising money to provide more Admiral Nurses – highly trained mental health nurses provided exclusively by Dementia UK to families and individuals who are affected by dementia. 25 million people in the UK have a close friend or family member with dementia – a staggering 42% of the population. Unfortunately there are not nearly enough Admiral Nurses in the UK and it is now a 'postcode lottery' as to who will receive this vital help.
This year's Time for a Cuppa campaign was officially launched in November by Phyllis Logan (Downton Abbey's Mrs Hughes, picture attached), who joined Dementia UK's Admiral Nurses at Kensington Palace to show her support for a cause close to her heart. Phyllis' own family has been affected by dementia, and she has called for action to be taken to address the problems faced by family carers.
During the week-long event, people across the country are encouraged to get together to hold a tea party. Joanna Westley, Head of Fundraising and Communications at Dementia UK explains: "Time for a Cuppa is the perfect excuse to take a much-needed break during the working day. It is also a great social activity for staff, and our campaign fundraising pack and website contain some fantastic resources for anyone looking for inspiration, including games and recipe ideas.
"With more and more people being affected by dementia, it is all of our responsibility to make life better for families affected by dementia and we call on businesses to do their part by hosting a Time for a Cuppa party."
A spokesperson from GlaxoSmithKlein described their plans for Time for a Cuppa week: "At the GlaxoSmithKline manufacturing site in Barnard Castle we're holding a cake stall with a baking competition. Already we have some rivalry on the site as the keen bakers are getting their best family recipes out to win the top prize of a bottle of champagne. This kind of event brings people together on the site, but as well as that we are helping to raise funds for a worthy cause."
For information on how to host an event, or to download a fundraising pack, visit www.timeforacuppa.org.