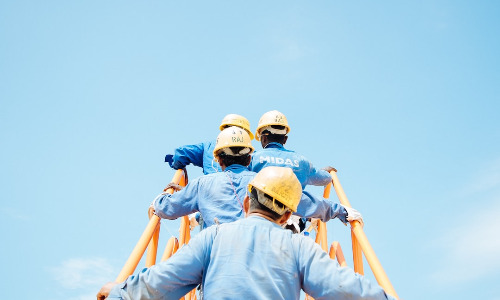 UK Employers Warned of Talent Shortages as Job Seeker Confidence Hits All-Time High
Read Time:
2 Minute, 36 Second
The UK is facing a Cost-of-Living crisis, with rising inflation and a shortage of skills in various sectors. This has resulted in staff demanding better pay, making it increasingly challenging for businesses to attract and retain talent, according to a warning from specialist recruitment firm Robert Half.
The company's Jobs Confidence Index (JCI), produced quarterly in association with the Centre for Economics and Business Research (Cebr), found that despite a slight dip towards the end of last year, the JCI remains in positive territory at 19.9. This shows that workers remain confident about their job security, with the search and progression pillar up 1.6 points quarter on quarter. These statistics highlight the skills shortages driving up competition for talent and worker confidence.
In fact, 42.7% of surveyed employees said they feel confident about their career and progression prospects in the next five years. This is in line with the company's Candidate Sentiment Survey published earlier in the year, which revealed that job seeker confidence is at an all-time high. Almost half (47%) of those surveyed said they were looking for a new job, up eight percentage points on last year's figures. Additionally, 43% of those actively searching for a new role indicated a desire for a better salary.
Employers need to strike the right balance between offering competitive remuneration, progression plans, and providing other benefits, such as learning and development opportunities, if a sustainable talent attraction solution is to be developed, according to Robert Half.
Matt Weston, Senior Managing Director UK & Ireland at Robert Half, commented: "The high jobs confidence we're seeing in the employment market at a time when the economy is sluggish is understandably putting pressure on corporate budgets as higher salaries are increasingly sought. The challenge for employers will be finding the right balance of financial and non-financial incentives to ensure unrealistic pay rises don't have a detrimental impact on the bottom line."
He added, "While above-inflation pay rises aren't sustainable for many firms, another talent exodus could soon be on the cards if retention plans aren't implemented. Those leaders that find the balance between appropriate financial incentives and other attraction benefits such as training and progression opportunities will be the ones to beat the competition on a longer-term basis."
Employers should be thinking about how to attract and retain the best talent, how to appeal to more candidates with a diversity mindset, take on more apprentices across a range of age groups, and invest in upskilling and reskilling their valuable workforce resource, said Weston. With the right strategy and a clear roadmap, business leaders can emerge from the current macroeconomic uncertainty stronger and ahead of the competition.
Businesses in the UK need to be mindful of the current economic climate and the skills shortage that is driving up competition for talent. Employers should strike a balance between offering competitive remuneration and providing other benefits such as learning and development opportunities to attract and retain top talent. Additionally, they should invest in upskilling and reskilling their valuable workforce resource to remain competitive and ahead of the curve.