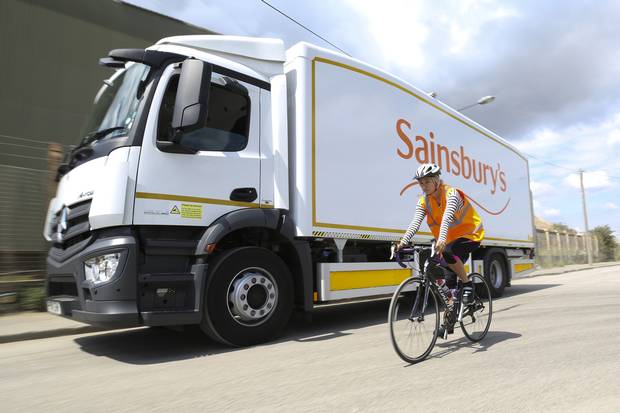 SAINSBURY'S LAUNCHES LONDON LORRY DESIGNED FOR CYCLE SAFETY
Read Time:
1 Minute, 27 Second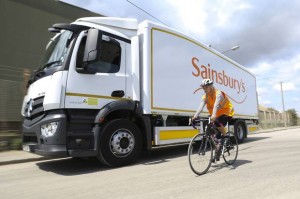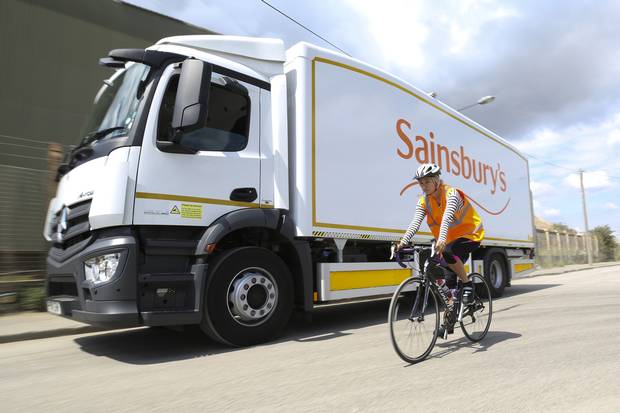 Sainsbury's launches a lorry designed specifically for the safety of cyclists and pedestrians.
The vehicle – which will be unveiled by Mayor of London Boris Johnson at City Hall – features 360 degree monitors, extra side lighting for road users at night and low side guards for cyclist safety. It was designed in collaboration with Solomon and Mercedes.
Retail & Operations Director Roger Burnley said: 'This is an important step in our work to make London's roads safer. We've put an enormous amount of thought and research into creating a truck that we hope will be the safest on the road – for all road users.'
The truck has:
New video technology in the cab giving 360 degree vision of the surrounding road
New proximity sensors down the sides of the lorry that beep to alert the driver to other road users
Side guard extensions and reflective infills to help stop cyclists from falling under the vehicle
More indicators along the sides to increase awareness that the truck is turning
More downlights along the sides that glow at night, giving the driver more visibility of road users in the dark
A warning sticker to alert road users that they are in the driver's blind spot
A tail lift operation warning – so that there will be an audible sound when the tail lift is being lowered – that's for anyone behind the vehicle
Further driver training on higher safety standards in the truck
www.Bizworldonline.com is a B2B online publication for the UK business community.
Please send business & company news stories to:
Business World (Newspaper & On-line Magazine)
First Floor Offices
Unit 2 Alliance Trading Estate
Torrington Avenue
Coventry
CV4 9BH
Email: petermarshall@bizworldonline.com
In a commendable move that's poised to be a game-changer for book sellers nationwide, Defendapack has dropped prices on their...