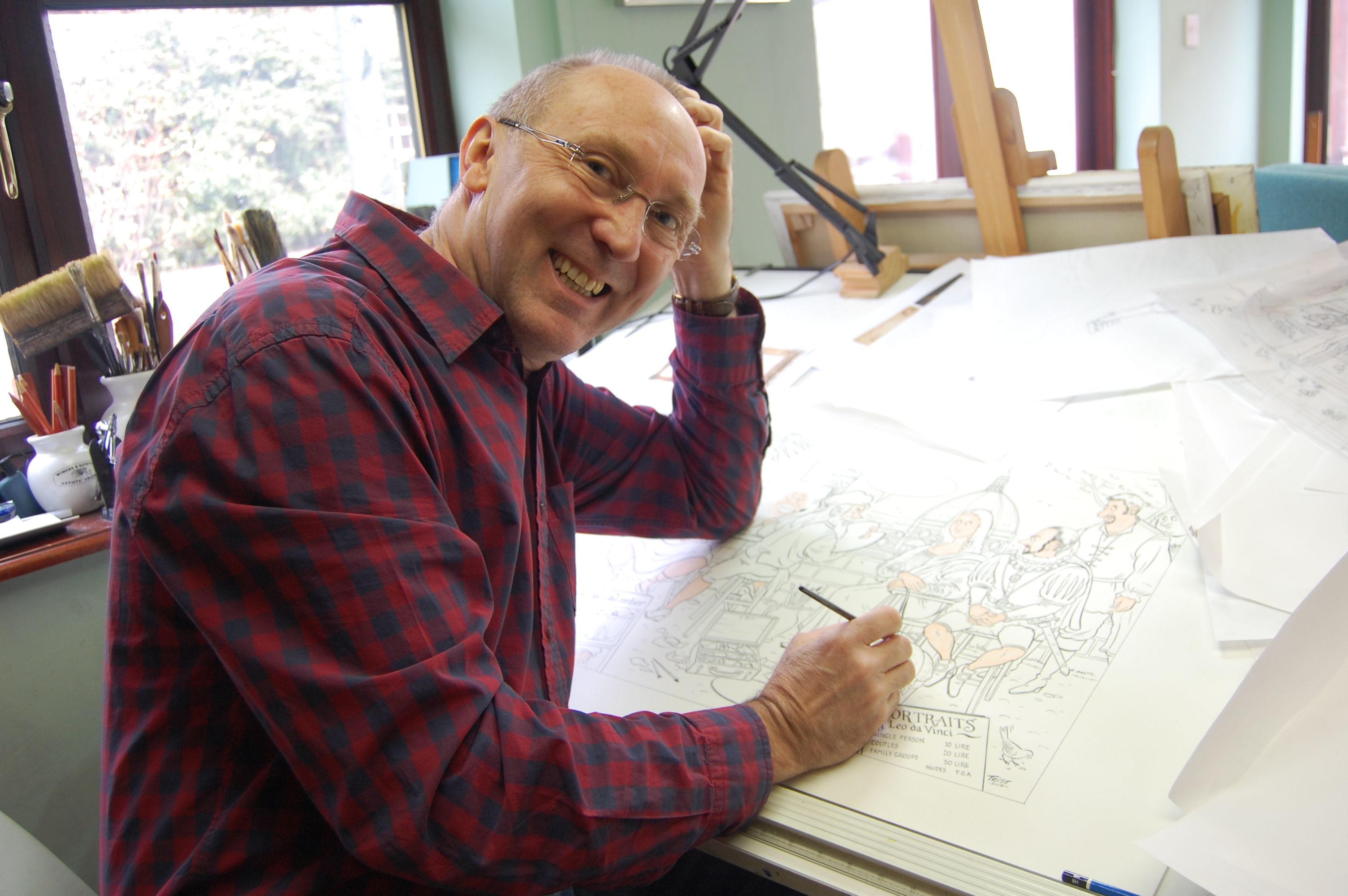 40 Years of exceptional art on display
Read Time:
1 Minute, 57 Second
Stourbridge based fine artist, cartoonist and comedy writer Geoff Tristram celebrates 40 years as a professional artist with a major exhibition of his work at Himley Hall, starting this Saturday, 5th April.
Entitled '40 Years Watching Paint Dry', the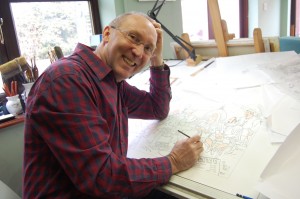 and many more.  This is a rare chance to see many original works of art that have featured on products sold across the UK and worldwide.  And visitors will also be able to see some of the design stages involved in creating the finished illustrations.
A large part of the exhibition is devoted to Geoff's on-going work with toy and game manufacturer Ravensburger, for whom he has illustrated many best-selling jigsaw designs.  Geoff's work can be seen on their hugely popular "Best of British" and "What If"? puzzle ranges, which combine his unique talents as an artist and as a comedy writer, as the designs are packed with visual and written "gags".
Sarah Stevens, Ravensburger Product Manager Manager commented: "Since starting to work with us in 2008, Geoff has created some of our best-selling puzzle designs.  Although we started working together on his classically painted Cat Conundrums designs, our more recent projects have used his colourful and hugely detailed cartoon style.  Geoff's unique talent allows him to understand the design demands of the jigsaw puzzle market and combine this with an understanding of what makes people laugh.  And because he is also a brilliant comedy writer, he builds in lots of written jokes too, which our consumers absolutely love.  I'm delighted that his work can now be appreciated by an even wider audience".
The exhibition of paintings and cartoons runs from Saturday 5th April until Sunday 7th September 2014.  There will also be the opportunity to purchase jigsaws, greetings cards, limited edition prints and all 11 of Geoff's comedy novels at discounted prices during the duration of the show.
And the artist himself is confident that even if visitors have no particular interest in art, they are sure to find something to make them smile at this exhibition!
www.Bizworldonline.com is a B2B online publication for the UK business community.
Please send business & company news stories to:
Business World (Newspaper & On-line Magazine)
First Floor Offices
Unit 2 Alliance Trading Estate
Torrington Avenue
Coventry
CV4 9BH
Email: petermarshall@bizworldonline.com